Research seminar:
What is it about the horse?

The horse in psychotherapy and ethology of the horse.
Welcome to Lundehagen, JUNE 2 - 5, 2023
The research seminar What is it about the horse? aims at presenting exciting research and knowledge from experienced clinicians and academics within the field of horse-assisted psychotherapy, equine research and ethology.
The seminar is a collaboration between Lundehagen Gård and University Hospital in Oslo, Gaustad, the department for substance use disorders (Stallen på Gaustad). Over the four days you can enjoy a varied program of lectures, two days of workshop and a release party!
PRESENTERS at the research seminar:
(Detailed timetable see below)
FRIDAY JUNE 2nd:
Presenting:
The nationally acknowledged child and adolescent – psychiatrist and psychodynamic psychotherapist.
Sveinung Skårset, Md
Through presentations, live interactive horse assisted sessions and demonstrations. Sveinung Skårset will portray his work on implementing Equine Assisted Psychotherapy (EAP) from years of clinical treatment of children and adolescents with mental illnesses.

Full day Workshop, demo and clinic.
Read this article about implementing EAP at Nordlandssykehuset, Lofoten:
Bruk av hest i psykoterapi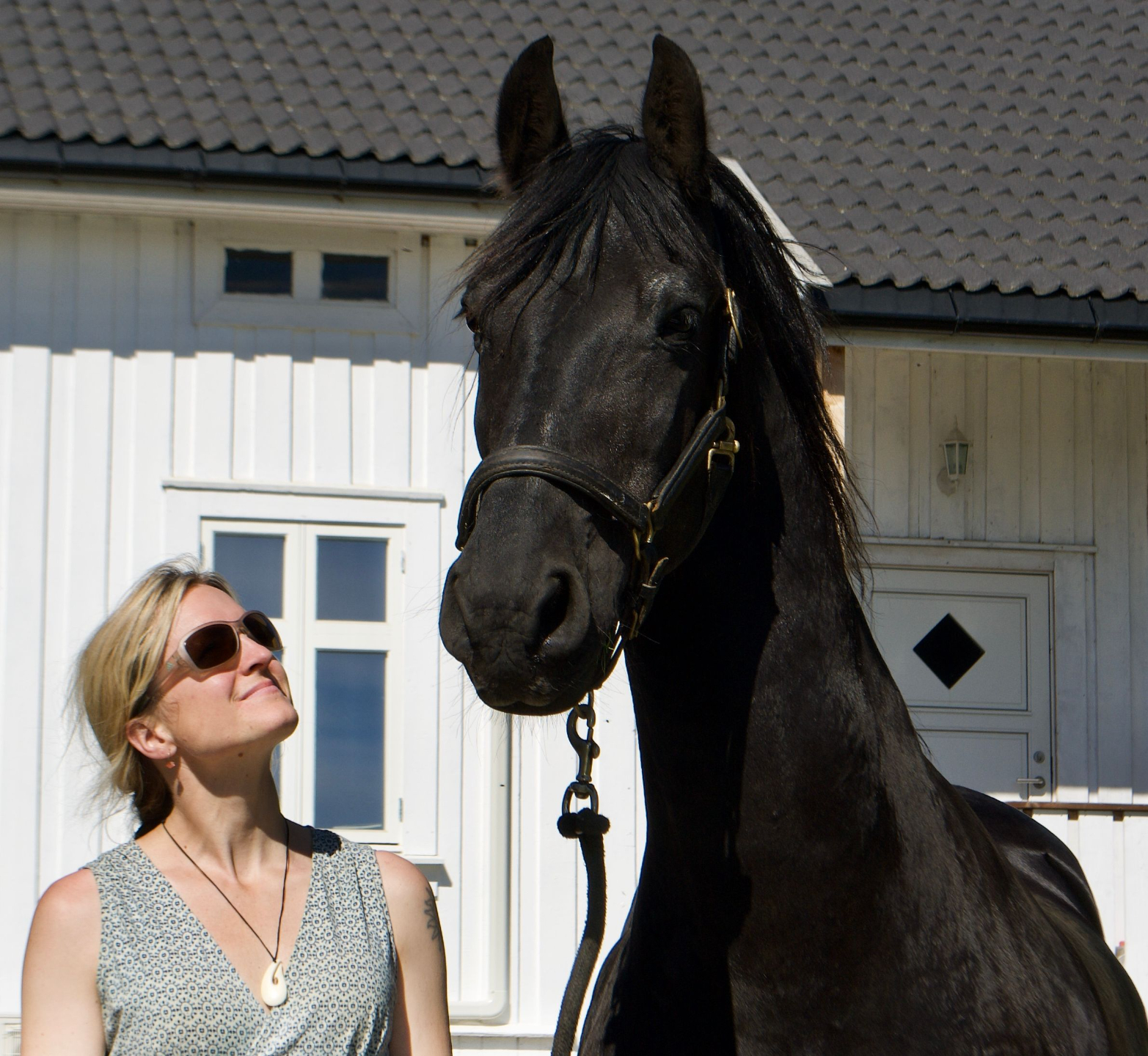 SATURDAY JUNE 3rd:
Norunn Kogstad
MD, Psychiatrist, Psychodynamic Psychotherapist, HEAL instructor and PhD-candidate on clinical research regarding the therapeutic effect from AEP applied to youths with borderline behavioural illness.
Presenting: "Clinical research on psychotherapy with horses in dialectic behavioural therapy for youths with emotional unstable traits."

More about Norunn Kogstad: Lundehagen hest, helse og samspill
SATURDAY JUNE 3rd:
Christina Thorpe
Masters degree in mental health, Nurse, Head of the Equine Assisted Therapy at Stallen Gaustad, Oslo University Hospital.
Presenting research in adults with substance abuse and mental illness: Equine-assisted psychotherapy as a treatment method for people with comorbid disorders in the specialist health service?
More about Stallen/Christina Thorpe: STALLEN RUS- OG AVHENGIGHETSBEHANDLING UNG Hesteassistert terapi
SATURDAY JUNE 3rd:
Tobba Therkildsen Sudmann
Professor of public health, equestrian physiotherapist, Department of Health and Functioning, Western Norway University of Applied Sciences.
Presenting: research on and clinical experience from how horses contribute in treatment of longstanding and complex health challenges (e.g., trauma, self-harm, severe mental health problems, or substance use).

More about Tobba Therkildsen Sudmann here: Høgskulen på Vestlandet

SATURDAY JUNE 3rd:
Nina Ekholm Fry
Director of Equine programs, Institute for Human-Animal Connection

at University of Denver where her work focuses on therapeutic human-horse interactions and on equine behavior and welfare.
Presenting: Current issues in research when equine interactions are included in psychotherapy. Updates from the U.S. on terminology and outcomes.

Read more here: Nina Ekholm Fry

SATURDAY JUNE 3rd:
Natasha Filippides
Phd, Clinical Psychologist, Psychoanalytic Psychotherapist and the founder of Depth Equine Assisted Psychotheraphy (DEAP)
Presenting: Clinical experience from over 15 years of practice in psychotherapy with horses.
Her PhD "Beyond The Couch", A Psychoanalytic Approach to Equine Assisted Psychotherapy, is receiving international interest for providing a depth understanding of the interaction between horse and human in a psychotherapeutic setting.
Read more about Natasha Filippides here: Dr. Natasha
SATURDAY JUNE 3rd:
Rupert Isacsson
Pioneer in autism intervention
Presenting: Can horses help humans grow a new brain? Can humans do the same for horses?
In a word, yes. Neuroplasticity is a word many of us use but don't truly understand. How could we - not being neuroscientists? But is it really so complicated - and can we, as equine practitioners - harness neuroscience for the good of both our clients and our horses? Can we get the same benefits ourselves even as we deliver it to others? Yes, yes and yes.
Ok then - how?
When Rupert Isaacson, founder of the three equine facilitated neuroplasticity programs - Horse Boy Method, Movement Method and Athena - found himself alone in a field with his severely autistic son Rowan almost 20 years ago, wondering what to do, he went looking for mentorship. Furst stop was to adult autist, animal behaviourist and neuroscientist Dr Temple Grandin. "How does my son become you?" Rupert asked Dr Grandin.
"Do these three things," replied Dr Grandin. Rupert did them, and found that they worked spectacularly well, not just for his own son but for others as well. So he became curious. Why was it working? And why did certain physical and emotional environments, as well as certain specific rhythms of the horse (and later of play equipment too) yield the best results. So, Rupert went looking for mentorship again - this time from neuroscientists - and ended up down a fascinating rabbit hole of how neuro-plasticity - effectively the growing of a new brain in a human and horse - can be boiled down to its simplest elements. Elements anyone can do, anywhere, any time. That means not just for our clients and our horses, but it also addresses the burnout that we as facilitators often experience in this demanding field.
In this entertaining and informative hour, Rupert, whose three programs are now in more than 30 countries worldwide and weekly serve more than 300,000 families weekly, will walk us through how to achieve this. Prepare to receive a new brain.
To find out more about Horse Boy Method, Movement Method and Athena visit horseboymethod.com, kidsmustmove.com and athena-equine.com
SATURDAY EVENING
RELEASE PARTY
This evening there will be a release party for the metode book/treatment manual from the Nordland Hospital Lofoten: "Horseassisted psychotherapy at Nordlandssykehuset Lofoten, a summary of clinical experiences from 15 years of horse-assisted interventions".
Author: Sveinung Skårset, Editor: Norunn Kogstad
SUNDAY JUNE 4th:
Ruth Newberry
Professor of Ethology in the Department of Animal and Aquacultural Science at the Norwegian University of Life Science (NMBU)
Presenting: "Recent research and knowledge about horse cognitive, emotional and individual capacities that make horses especially relevant contributors in clinical practice."

More about Ruth Newberry: NMBU
SUNDAY JUNE 4th:
Dr. Emily Kieson
PhD in Comparative Psychology and Behavioral Biology, MS in Psychology, Postgraduate Diploma in Equine Science and certified as an equine specialist in mental health and learning in a variety of equine therapy models. Former Research Director and board member at MiMer Centre.


Presenting: "Equine affiliative behavior in equine-assisted programs: The role of trust and communication in equine-human interactions."

More about Emily Kieson: researchgate
SUNDAY JUNE 4th:
Lucy Rees
Ethologist, Writer, Horse trainer, Comprehensive observation of feral horses. She studied many populations of feral horses in the Americas and Australia, above all in Venezuela, where for years she ran residential ethology courses. These studies led to the book; Horses In Company (2017).
Presenting: "The cohesive nature of natural horse society, the bond they form toghether and the language they use to express that."

More about Lucy Rees: Wild horses and Lucy

SUNDAY JUNE 4th:
Ilka Parent
Clin. Psychologist, Psychodynamic Psychotherapist, Depth Psychology, Psychotraumatherapy (DeGPT), Equine Welfare during trauma-confrontative techniques.
Presenting:
Equine assisted EMDR and its latest research (a comparative study: office based and equine assisted based EMDR) as well as the steps necessary to ensure equine welfare during a directive traumaconfrontation
MONDAY JUNE 5th:


Presenting: A World Leading Horse Ethologist

Lucy Rees
Showing that when we try to fit into the horse's scheme of things, they are drawn to us and begin to express themselves as in their natural friendships, with voluntary cohesion. Includes live sessions where participants may attend and work can be seen in action.

Full day Workshop, demo and clinic.
Read more here: Lucy Rees
FRIDAY 2nd
Time: 09.00 - 10.00
REGISTRATION
Time: 10.00 - 17.00
Workshop/demo/clinic with Sveinung Skårset

including lunch
SATURDAY 3rd
Time: 09.30 - 10.00
REGISTRATION
Time: 10.00 - 10.30
Norunn Kogstad will welcome, give practical information and present parts of her research
Time: 10.30 - 11.00
Christina Thorpe
Time: 11.00 - 11.45
Tobba Therkildsen Sudmann
Time: 11.45 - 12.00
Break
Time: 12.00 - 13.00
Ilka Parent
Time: 13.00 - 14.00
Lunch
Time: 14.00 - 15.00
Nina Ekholm Fry (digital)
Time: 15.00 - 17.00
Natasha Filippides (digital)
Time: 18.00 - 22.00
RELEASEPARTY
with Norwegian tapas


SUNDAY 4th
Time: 09.30 - 10.00
REGISTRATION
Time: 10.00 - 11.00
Ruth Newberry
Time: 11.00 - 11.15
Break
Time: 11.15 - 12.15
Emily Kieson
Time: 12.15 - 12.45
Break
Time: 12.45 - 13.30
Lucy Rees
Time: 13.30 - 14.30
Lunch
Time: 14.30 - 17.00
Rupert Isaccson
MONDAY 5th
Time: 09.30 - 10.00
REGISTRATION
Time: 10.00 - 17.00
Workshop/demo/clinic
with Lucy Rees
including lunch
Lundehagen, Norway
Welcome to our brand new inndoor arena with conference room, toilet, coffee machine, horse rehab area with farriers bay, wash bay, solarium etc.
Lundehagen is a resource center for work with horses in psycotheraphy.


Visit our website here: www.lundehagen.no
Tickets/prices
CHOOSE AND CLICK ON YOUR PREFERED PAYMENT OPTION BELOW
Tickets
STREAMING OPTIONS